Compliance and Quality Solutions
"Advanced Imaging Group is committed to exceeding customer expectations by providing quality solutions. It is this customer driven policy that provides the incentive for continuous improvement in the quality of our products and services. Advanced Imaging Group will comply with all regulatory and customer requirements and maintain the effectiveness of the quality management system based on the ISO 13485:2016 standard."

The achievement of our goals is determined by our quality objectives, which, along with this policy, are discussed and reviewed in Advanced Imaging Group Management Review meeting. The Quality Policy is displayed on Advanced Imaging Group' office and warehouse walls.
With quality as the foundation of our business, Advanced Imaging Group has adopted the Quality Management System of Medical Devices, ISO Standard 13485:2016, the gold standard in the medical device industry.
We are committed to providing awareness to our customers of Medical Device Recalls or Field Service Modifications (FSM). Our staff proactively searches the FDA database for all recalls or FSM that may affect our products, or components we sell or service.
In the event such recalls have been determined, either by the OEM or the FDA, we will contact our customers to inform them of the corrective actions that have been determined through the root cause. In addition to the OEM or FDA corrective actions, our organization may have additional safeguards or training incorporated within our current processes to ensure we are doing our part to maintain exceptional quality and safety to the customer. All records of recalls and FSM are kept within our Quality Management System, as well as documented on our service records.
Advanced Imaging Group is an established, FDA registered Distributor/Importer of Medical Devices. Our Pompano Beach location has had an FDA Medical Device inspection and received a final classification of "No Action Indicated" (483 Observation Notifications). Areas of inspection were our Good Documentation Practices, Quality Management System, Repairs, Customer Complaint and CAPA reporting system, inclusive of Adverse Reporting Complaint Management.
As an Independent Service Organization, we are proud to have membership with the International Association of Medical Equipment Resellers and Servicers (IAMERS), which proactively commits to working with the FDA and other agencies to bring a better understanding, compliance, and education around regulatory support within the industry. For more information about IAMERS or becoming a member https://iamers.org/
Certified Quality Management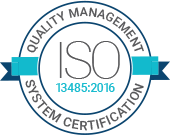 Our team of industry professionals in Tennessee and Florida proudly operate under an ISO 13485:2016 Certified Quality Management System.
High-tech medical imaging equipment is complex, which is why we offer best-in-class support solutions to our customers. 
Our support team consists of highly trained and friendly professionals with years of experience in the medical imaging industry.
Thousands of our parts are available to ship with just one click!
Have Questions? Just Ask…
The Advanced Imaging Group team will respond promptly.