Please read the following Terms and Conditions agreement carefully. By accessing, purchasing and/or utilizing our services, you hereby agree to be bound by the terms and conditions incorporated herein by reference in this document. It is the responsibility of you, the user, customer, or prospective customer to read the terms and conditions before proceeding to use our products or services. Standard sales terms and conditions are listed as follows.
Exchange Policy
A like and repairable part must be received at our facility within twenty-one (21) days of domestic shipment or thirty-one (31) days of international shipment. If a like and repairable exchange part is not received the customer will be additionally billed up to the OEM list price.
Restock Policy
Customers may restock parts within ten (10) days of the ship date, unless otherwise stated at time of sale/purchase.
All restocks require a valid RMA. Parts returned without a valid RMA will be treated as exchanges.
If the part is returned for restock within ten (10) days from the ship date, the following restock fees will apply:
Unopened: up to 20% Restock Fee

Opened: up to 25% Restock Fee
After 30 days No Credit will be given. Part will be processed as an exchange.
NOTE: If a part has been tampered with, the part will be treated as an exchange and restock credit will not be issued.
Warranty Policy
Unless specified otherwise at time of sale, Advanced Imaging Group offers up to a 180-day warranty on all inventory parts excluding tubes. Warranty information for tube purchases will be given at time of sale.
DOA (Dead/Defective on Arrival) claims must be made within forty-eight (48) hours of delivery date unless otherwise specified at time of sale.
Warranty parts must be returned within five (5) days of the warranty claim.
All warranty claims require a valid RMA. Parts returned without a valid RMA will be treated as the exchange.
Warranty claims must be made within the specified warranty days from the initial ship date.
Warranty credits will be issued after part has been received and tested in our facility.
Breaking QA seals, removing the serial number or tampering with a part in any way voids all warranties.
Warranty replacement parts assume the warranty of the original part purchase.
Late Payment Policy
Payments not made within the specified period shall be subject to a late payment penalty of 5% of the unpaid amount due for each month. This NOTIFICATION binds customer to these terms.
Shipping Containers
Some parts are shipped in wooden crates or pelican cases. The core returns for these parts should be returned in the same case in which the original part was shipped. Failure to return the part in the same or like case will result in a charge of $800.00 USD.
Inventory/Sourced Policy
The above policies are applicable for all parts shipped out of Advanced Imaging Group's warehouse inventory. Policy information for sourced parts if different Advanced Imaging Group's policy, will be given at time of sale/purchase.
Limitation of Liability
Advanced Imaging Group's total liability for any claims under this policy is limited to the price of the parts(s) which are the basis for such claim. All disputes arising from or relating to this agreement shall be maintained solely in the state of Florida.
Shipment and Risk of Loss
Unless otherwise stated, all parts shall be shipped FOB to Advanced Imaging Group facility, with prepaid freight at Customer's expense. Title and risk of loss shall pass to customer at the time of shipping.
Indemnity
All Repair, inspection and installation services are offered upon customer's request. Customer agrees, Advanced Imaging Group will not be liable of any damages including loss of income, profit, revenue or business interruption, cost or other economic loss and any claims for recoveries based on theories of contract, warranty, tort or otherwise. Customer agrees to indemnify and hold Advanced Imaging Group, its vendors, and distributors (and their respective officers, directors, employees and representatives) harmless against any and all liability to third parties arising out of, or in connection with, your or end user's use of the service, parts or systems.
Process changes to purchases and or services provided to Advanced Imaging Group
Any changes and/or deviations from OEM performance parameters resulting from repair must be communicated to AIG, in advance, when such changes affect the form, fit, or function, or alter the OEM specifications. Goods or services must conform to OEM specifications.
All returns are shipped to:
Advanced Imaging Group
104 Challenger Dr. Suite 100
Portland, TN 37148
Accounting inquiries:accounting@aigserv.com
Sales Inquiries:sales@aigserv.com
Accounts receivables inquiries:receivables@aigserv.com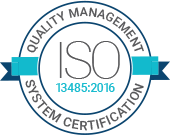 Our team of industry professionals in Tennessee and Florida proudly operate under an ISO 13485:2016 Certified Quality Management System.